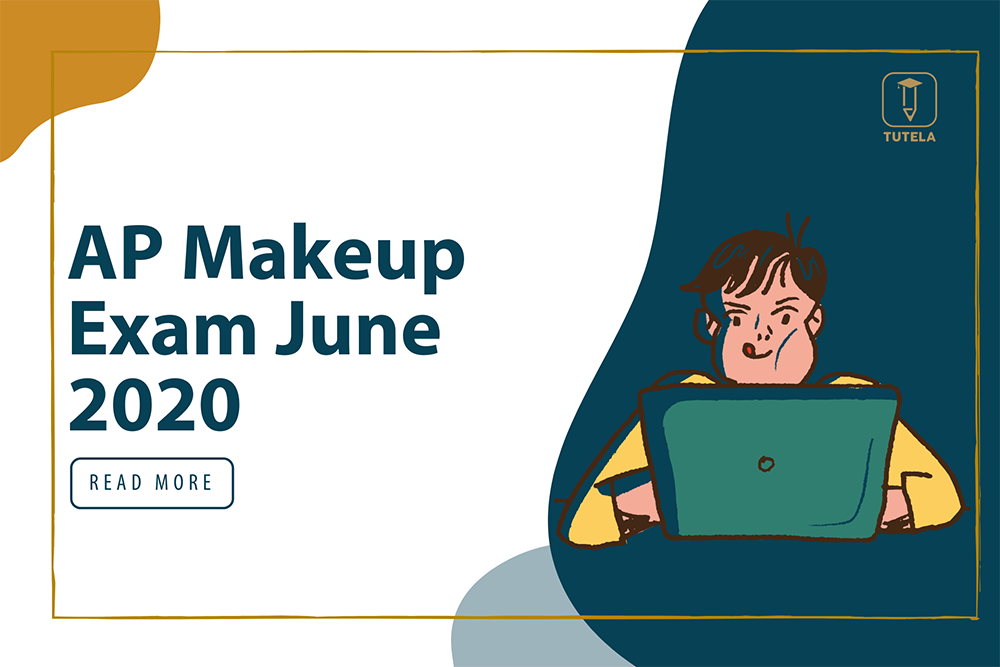 In response to school closings due to the coronavirus, the College Board made some changes to AP Exams 2020. The unique security protocols that are required for this year's online exams require all students worldwide to test at the same time.
APs are an essential part of every student's college admission process. Aps give an edge to students and provide them with an opportunity to prove their proficiency in a particular subject. Keeping the welfare and the future of students in mind, the College Board made sure that students don't miss their APs even in such times when all the arrangements had to be on such short notice. Not only that, to ensure that every student gets to take the test, the College Board has arranged a makeup test even for all those students who weren't able to take the test due to some technical glitch or any reason whatsoever.
Following are some guidelines for your AP Makeup Exam that will happen in June 2020-
1. If you have a conflict and want to take the Makeup Exam, then do not use the May e-ticket for the June exam.
2. If you experienced any disruption, then you can request the e-ticket for June Makeup Exam within 48 hours of your original exam date.
Here's how you can request a Makeup Exam-
1. Go to the AP Makeup Testing Request Form.
2. Fill in the form with the required information and a description of what happened.
3. Submit the form with your original e-ticket.
After review of your form, you will receive a mail as to if your request has been approved or not. On approval, you will get your e-ticket for the Makeup Exam 2 days prior to your exam.
Following are the amendments that are made to this year's AP exams. These amendments are for the year 2019-20 only.
1. There will a 45-minute online free-response exam for each course.
2. The syllabus will be limited to what most of the school was able to complete by early March.
3. You're free to use any device for taking the exam. Also, you have the liberty to write your responses by hand and submit a photo of them.
4. Due to these unavoidable circumstances, it will be ensured that you earn the college credits that you've worked hard for.
Here are the AP Makeup Exam Dates for Indian Students, who were unable to take the AP exam in May, and will be taking the makeup exam in the month of June.
The makeup exams will run from June 1 through June 6.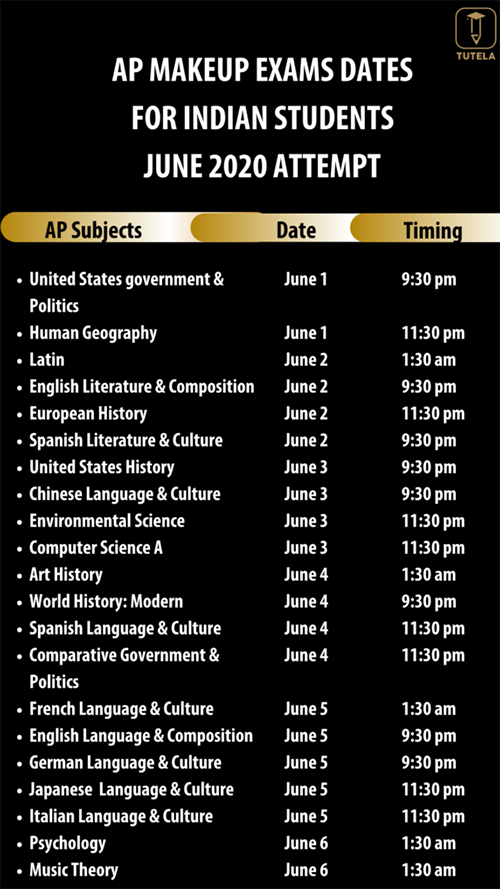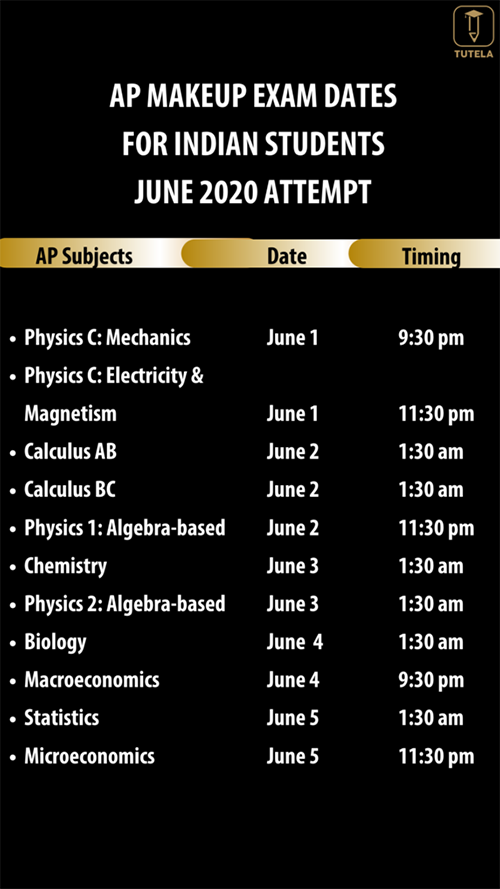 Make sure that you don't skip the AP test as it helps a lot in your college admission process. APS add value to your profile, thus strengthening it even more. If you have any issue that's not making it possible for you to take the exam, immediately write a mail to the College Board.
Click on the link for some specific AP Exam related tips
If you have any queries relating to the AP exam or any test prep assistance fill out Tutela's student assistance form or call us directly at +91-8826345541.