What are AP Exams?
AP exams stand for Advanced Placement exams. The College Board offers them and covers a wide range of subjects like math, science, history, and more. What makes them exciting is that if you do well on these exams, you can actually earn college credit or demonstrate your knowledge to colleges. It's a chance to explore subjects you're passionate about at a deeper level and experience college-level coursework while you're still in high school. Plus, it's a fantastic way to shine on your college applications.
Registration Process for AP Exams 2024
Registration for AP Exams 2024 has already begun. The AP Exams are scheduled to take place in May 2024 from May 6th to 10th and May 13th to 17th for Regular Testing and 22-24th May for Late Testing. Students must note that each test center has its own registration and payment instructions.
Students should always be sure to check with their preferred test center to avoid missing out on deadlines. So, get ready to bring your A-game during those weeks! If you want to start with your AP Prep Classes, check this blog out.
Students are required to finalize their registration and make payment directly with their chosen test center for the period spanning from September to mid-November 2023 to secure a spot for the exam at the center. Certain test centers might provide an alternative registration period from December to mid-March 2024, with extra charges.
Step-by-Step Process for AP Exams 2024 Registration
With the entire process being so daunting, here's a step-by-step AP registration guide.
Step 1: Students should start with creating their College Board account.
Step 2: Then click on AP Student
Step 3: Accept the terms and conditions as shown below after step 5.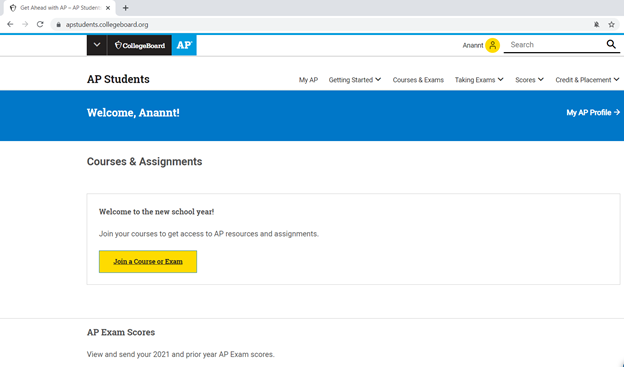 Step 4: Students will then JOIN A COURSE OR EXAM they are applying for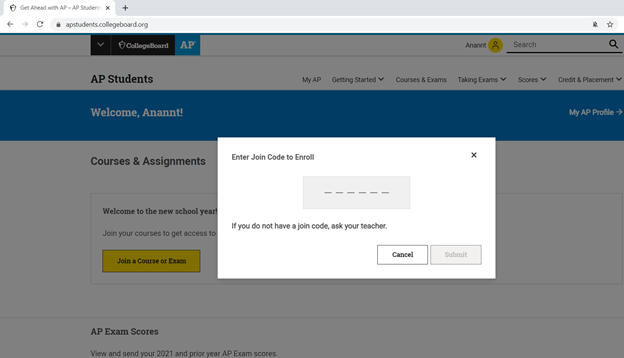 Step 5: Students then need to enter the code to enroll (It is a subject code specifically assigned to a particular test center and testing dates. Different subjects have different codes in the same test center, and the same subject will have different codes in different test centers.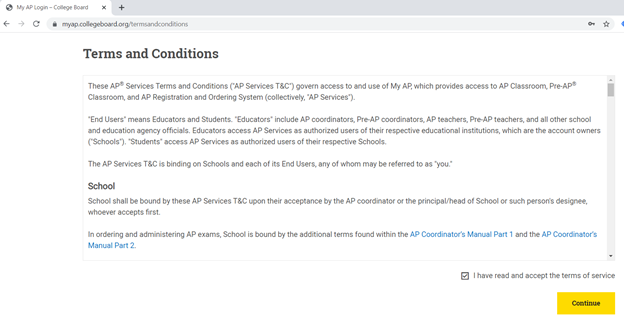 How to find the enrollment code for AP Subjects?
In the process of registering for AP Exams in 2024, there are two distinct methods to acquire the necessary registration codes. For some test centers, the codes are readily provided, specific to each subject, on their respective websites. You may check for it here. Select the test center you want to proceed to for further information. In this case, students can simply copy the codes from the test center's website and paste them into the online registration form, as mentioned above. After inputting the codes, students can proceed to make the required payment to complete their registration.
On the other hand, in certain test centers, students may be required to make the initial payment to their chosen test center before receiving the subject-specific codes. Once the payment is processed, the test center will provide students with the necessary codes via email once the payment receipt has been confirmed. After receiving the code, students can proceed with the completion of the registration form on the college board website. It is essential for students to carefully follow the registration process according to their specific test center guidelines to ensure a smooth and successful registration experience.
After accessing the code, you may follow the steps below to complete the registration.
1. Select and copy the subject code and paste the code on the AP student's account.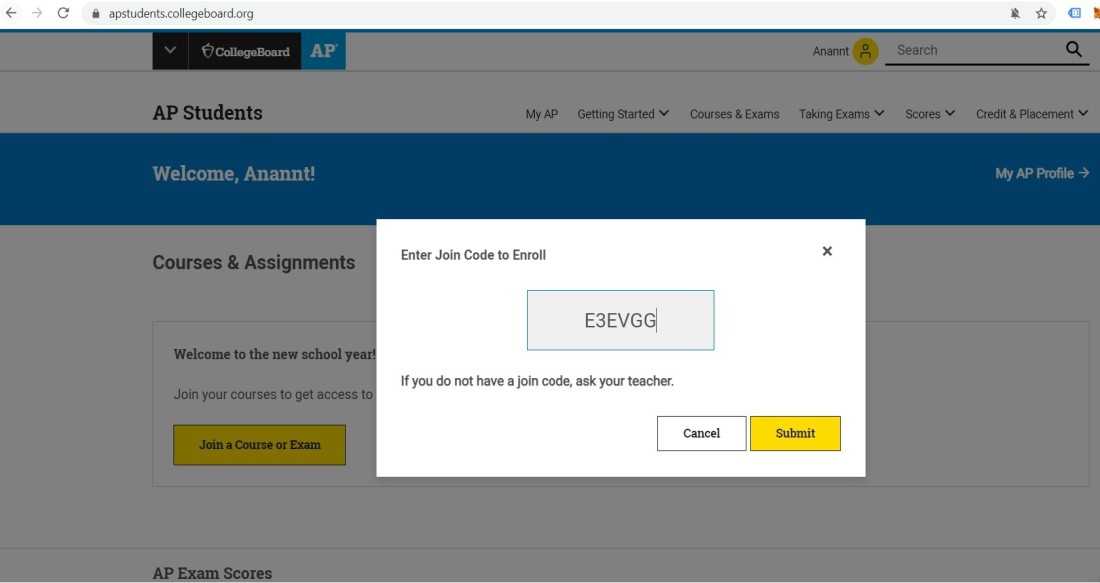 2. Click on Yes to fill in the personal information that will be sent to the respective test center.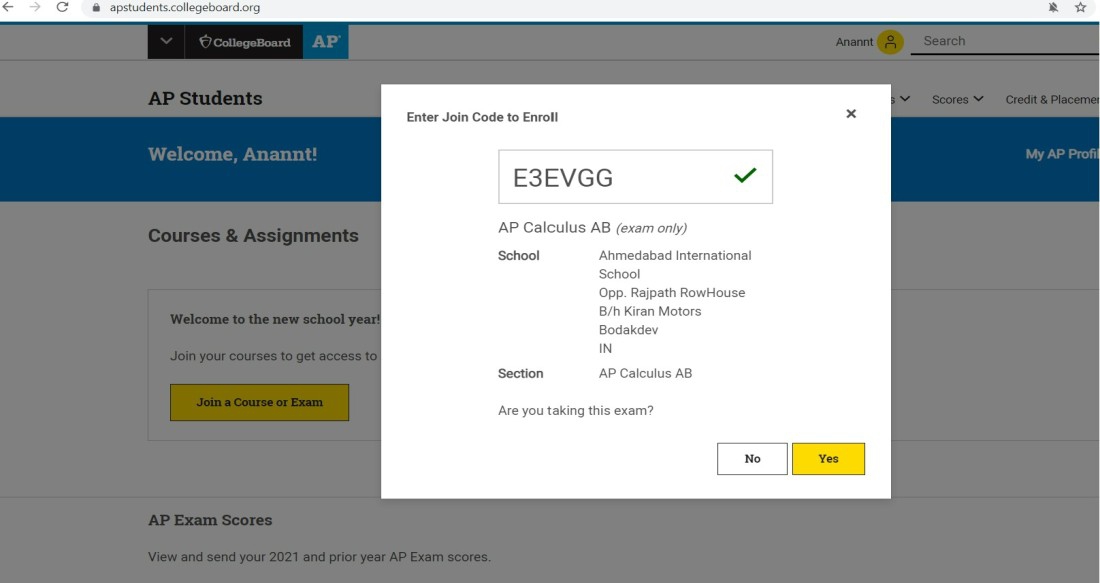 3. Once the information is submitted, the AP Registration is completed at the College Board.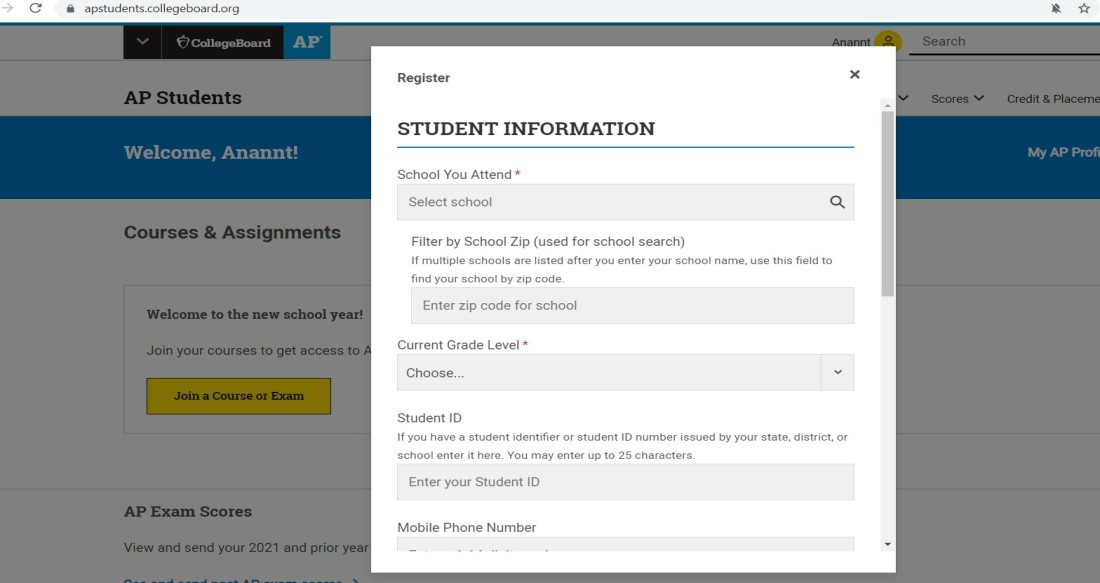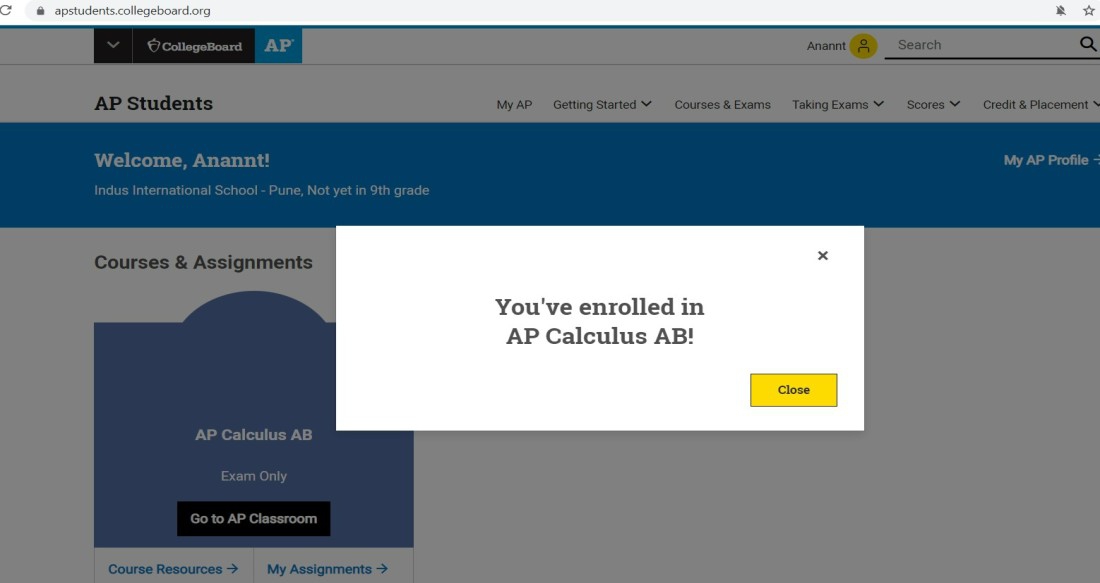 Step 6: Lastly, the students are required to follow the guidelines provided by the test centers. Furthermore, they are required to send the payment receipt, AP Subjects, and test dates to the coordinator of the test center to confirm their registration. Please note that AP testing fees and the payment receipt confirmation will vary as per the test center guidelines.
We hope this article helped you with the process. Reach out to us by filling out our assistance form if you need any help with the preparations.
SOURCE: THE COLLEGE BOARD