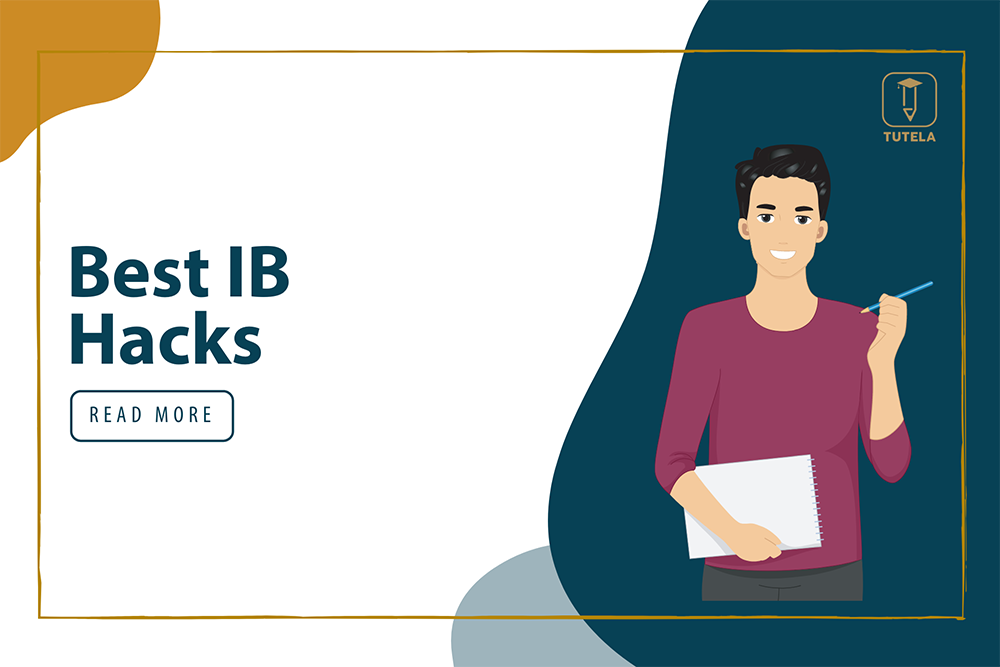 We all understand that IB is not easy. With six subjects, innumerable activities and hours in CAS, and seemingly endless IAs along with the exams, we know students need shortcuts! In this blog, we have put together some of Team Tutela's best IB hacks to tackle the load!
Maintaining a record of CAS reflections.
Students should audio/video record their CAS reflections instead of writing them out! Students should not waste time crafting a perfect essay because sufficient proof will be required to establish that they have done the activities they have mentioned anyway. Students can massively cut down the amount of time they take up by simply recording these reflections. Also, being able to do them on the go makes it a win-win.
Internal Assessments
We have witnessed too many IB students get terrible grades on their IAs despite having good content. Their major mistake was overlooking that IB is very particular about how it wants an IA to look. For example, Solving Fermat's Last Theorem in Math IA is good, but it is equally important to show personal engagement or reflect on why this proof was interesting.
Drafts are important
Making a draft as complete as possible is very crucial to have the best chance at success. Half-baked essays are not fruitful. The teacher can only mark and assist with what they read! The significant benefit of having a COMPLETE and GOOD draft is the advice students can get from their teacher, who has the potential to push the grade 4 to essay to 7.
KNOW your calculator
The calculator should be the most significant friend of a Math and Science student. We have seen countless students who are more scared by their calculators than they are friendly with them. Understanding and exploring the full extent of the capabilities of the calculator can save a ton of time! This way, saving time on question after question will ensure that students have more time to tackle those tricky questions at the end, guaranteeing that they will do better. Students should start familiarizing themselves with their calculators right away!
Making revision a HABIT
Students have so much time to do their revision that they are missing out on every day! Instead of plugging the unproductive habit of listening to the same song again and again or napping or daydreaming, they should do something small and IB-based. Listen to a podcast, skim through some flashcards made out of notes, or check out some IB videos. This will make the dead time in the schedule productive, and it will add up to put the student in a great position to smash the exams.
Using the reading time wisely.
Students might not know it right now, but students are given five minutes of reading time in some of the final exams. So, instead of twiddling their thumbs, and taking nervous sips of water, students should plan their line of attack. This tip might seem small, but it might make all the difference if used effectively. Students should relax and work out how they will go through the paper.
Leave NOTHING blank
If we talk about the math marking scheme, students do not pick up points for getting the right answer-many points are given for methods and attempts at reaching the correct answer too. Thinking that having no idea how to approach a question can not help pick points is a mistake. Just an attempt at substituting the appropriate formula, even if the students have no idea what to do next, can help them pick up EASY points. Students can start doing this for all the questions that they do not know how to approach. The few points grabbed by this method can be a huge difference between passing and failing.
Try and remember these simple and easy hacks while you head through the diploma-we are sure they will make your life easier.
The IB has confirmed that it will offer a dual route for the May 2021 Diploma Programme and Career-related Programme examination session. To more about it, click here
Recommended Article: How to study IB Business Management?
In case you feel the need for any professional help, reach out to us. We will be happy to assist you.